D87 derailleur gear hanger for Salcano, Wilier, DeVinci, Argon 18, Storck bikes
Regular price
OMR 15
Save OMR -15
/
---
Rear gear mech hanger, derailleur hanger manufactured by PILO.

Material: CNC machined 6061 T651 aviation aluminium.

Color: black, anodized finish.

Bolts included.

Pilo catalog number: D87

Fits Bianchi frames:
Fits Viner frames:
Fits Stevens frames:

2014 c.team, team, namur, sonora es, sonora sl

2012 haze es

Fits Scapin frames:
Fits Gios frames:

2015 A-90 Aegis

2012 – Ultimo

Fits Principia (aka gear hanger #PA082016) frames:
Fits Bergamont (aka mech hanger #BGM-H018) frames:

2008 – Dolce MGN, Dolce TEAM, Dolce 9.8, Dolce 7.8, Dolce ltd

Fits Cinelli frames:

2015 Saetta Radical, Saetta Radical plus




2012 saetta

Fits EXS frames:
Fits BH frames:

Liberty Seguros, G4 and others…

Fits Fuji frames:

2015 Altamira CX 1.1, CX 1.5, Altamira 1.1, Altamira 2.1, Altamira 2.3, Altamira 2.5, Legend SL

2009 CCR-1, SL1, SST, SLM, Supreme 

2008 CCR-2, Silhouette, SL1

Fits Marcello frames:
Fits SAAB frames:
Fits Ducati frames:
Fits Isaac frames:
Fits Kooka frames:
Fits Rocky Mountain frames:

2009: Solo, Prestige, Oxygen 30 RC, 50 RC

2008 Solo Carbon

Fits GT frames:
Fits Corratec frames:

2015 Dolomiti, Corones, CCT pro




2014 shape three / two / pro / one / dolomiti / c-cross / corones / cct cross carbon




2007 road CCT WM SonderModell, RaceTech CCT Ultegra

Fits Storck frames:
Fits Salcano frames:
Fits Bevato frames:
Fits Argon 18 frames:

Fits Carrera  frames:

Fits Wilier frames:


Izoard, Mortirolo, Mimosa, GranTourisimo




2014 Izoard xp 

Fits Capriolo frames:

2015 Speedster, Firebird FB 3

Fits Ridley frames:

2013-2015 Fenix

2010-2012 Excaliber, Helium

2013 Liz

2011-2012 Orion

2009-2012 X-Fire

Fits Victoria frames:

2015 Trekking 8.9, 8.5, 6.8, 6.7, 6.3

Fits Marin frames:

2015 Cortina T3 CX, Stelvio Pro, Cortina T3 CX Pro

Fits Ideal frames:

2015 Stage Team 105, Stage Team Ultegra Di2, Stage comp

Fits Raleigh frames:

2015 C5, Criterium Race, Revenio Carbon 4, Militis Team

Fits JHT frames:
Fits Bulls frames:

2015 Night Falcon Rennard 28 Zoll

Fits Poison frames:

2015 Speed Disc,Opiat  Opifit Randonneur 105

Fits Vitus frames:
Fits Viper frames:
Fits Kona frames:

2013 Red Zone, Zone Two, Zing Supreme

Fits Saso, Pedal Force, Fetish, Canyon, De Rosa, DeVinci, Mekk, Ribble, Haibike, Hercules, Koga, Kuota, Staiger, Winora, Sensa  frames:

Some models.

Sensa Lombardia

Fits Boardman frames:
Fits Dalkila frames:
Fits Thompson frames:
Fits Litespeed frames:
Fits Adrisport frames: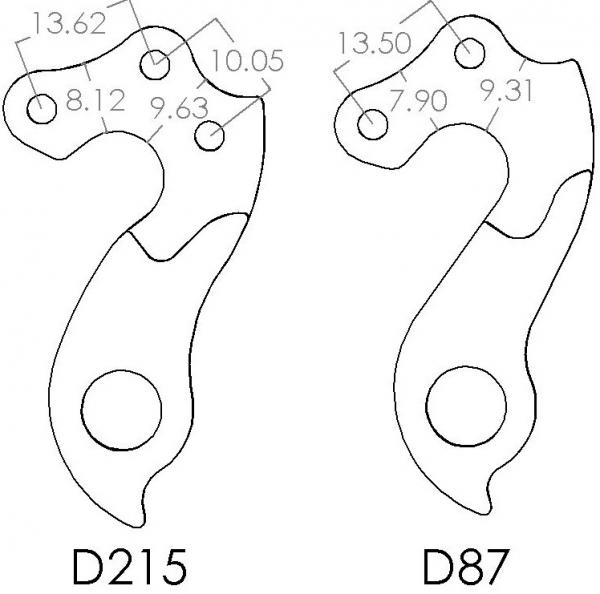 For any questions please e-mail us:
To be sure if this the right part, please send us photos of:
1. Your derailleur hanger from both sides;
2. And if possible bike's frame part photos, where derailleur hanger was attached.